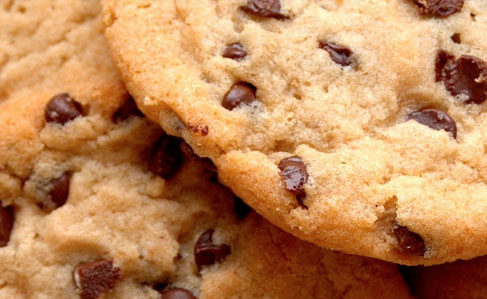 In May last year some new EU rules came into force known as the 'EU cookie law'. The legislation says websites have to get permission from users before storing pieces of information called cookies on their computers.
Although the law came in last year (2011), website owners have until 26th May 2012 to comply, after which they could be fined up to £500,000.
So What Are Cookies?
Unfortunately they're not referring to the tasty biscuit that instantly springs to mind.
Cookies are small text files which websites place on visitors' computers. They're typically used to identify that particular visitor and provide them with a better experience. Cookies are a crucial part of many website functions which we all take for granted.
Almost all websites uses cookies.  A common use for cookies is online shopping. Cookies allow sites to remember what items you have in your basket. They're also used to keep you logged in to a website such as Facebook, or to provide valuable usage statistics and information through tools like Google Analytics. They may also be used to display relevant adverts to visitors.
Here's a humorous video from @silktide to help explain: The stupid EU cookie law in 2½ minutes.
What Does This Mean For Me?
There's still a lot of confusion about how the rules should be interpreted and what websites need to do to comply. As a result, many websites are taking a 'wait and see' approach.
In short, the new rules require websites to get permission from visitors before placing any cookies on their computer. Permission must be informed and overt, which means you have to ask visitors outright if you can put cookies on their computer, and explain clearly what the cookies are used for.
What Do I Need To Do?
Even with the May deadline fast approaching, hardly any websites have done anything obvious to comply with the cookie law. Some sites have started displaying pop-ups to get users to opt-in. Remember popups? Yes, everyone hated them so much, nearly ever browser now blocks them by default.
Even the governing body responsible for enforcing the rules (the ICO) saw a 90% drop in recorded traffic because visitors simply aren't opting in.
It's looking very unlikely that many websites will have implemented a cookie opt-in by 26 May. In fact the ICO has suggested that the most important thing is to take steps in the right direction. If you can show you're moving towards full compliance then you're unlikely to be targeted.
As a bare minimum, it's important to have an understanding of what cookies your website uses and plan how you might implement an opt-in. The only other option is to stop using cookies altogether, which isn't really a practical solution.
What Cookies Do You Use?
We only use cookies for Google Analytics to collect anonymous information about the pages viewed on our website. The analytics service from Google sets a number of cookies (default of 4). Third Party widgets like Facebook and Twitter widgets may also uses cookies. You can find out more in ourPrivacy Policy.
In Summary
Although there is still a fair amount of uncertainty around the new law, it's fair to say that doing nothing is not a good option. In the long-term, people's attitudes and understanding of cookies may change – and web browsers may include settings to help provide a consistent opt-in.
For now, if you need help complying with the law, please get in touch.
Follow us on Twitter or Facebook to keep up to date with all the latest information.
What do you think about the new Cookie Law? Let us know in the comments below.