March 2nd, 2012 | View Comments
Facebook has unveiled Timeline for pages and it's a complete redesign from what we're all used to. In fact, it's the largest change since February 2011, bringing the layout in line with normal profiles.

The new layout features a cover photo and larger stories presented chronologically.

You might think the pages are identical to personal profiles but there are some subtle differences. Fan pages feature the ability to pin a post to the top of a page and a friend activity box that makes pages more relevant to each user. Page tabs still function, but there is no longer an option to set a third-party tab as default.

Page owners have until 30th March 2012 to prepare and publish at their leisure. After that, pages will automatically switch to the new format.

Here are some of the new key fan page features in a little more detail.


Cover Photo

Pages have a 851×351 pixel photo across the top of the page to convey a brand message. Facebook wants to keep cover photos from looking like banner ads, however, so images cannot include price or purchase information, contact info, calls to action or references to Facebook features such as Like or Share. This may seem like a strange decision to remove bespoke default tabs (including "like gates" or forced like pages) but there are now alternatives (see below).
Timeline

Page owners can now add milestones and choose to make featured posts larger than others, similar to what users can do with life events on Timeline. Pages can also hide individual posts without deleting them. This allows pages to display only its most engaging posts without losing important data.

Hover over a post and use the star icon to feature, or the pencil icon to hide or delete, posts.

Using the star icon to feature a post creates what Facebook calls a "Milestone." These expanded posts display at 843 pixels wide by 403 pixels tall, so keep that in mind when choosing which content to highlight.

Brands can now also pin a post to the top of their feed. Pinned posts can stay for up to seven days.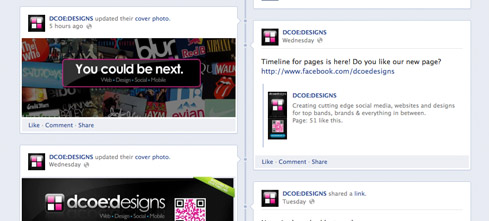 Applications

Page tab apps continue to function, but instead of listing apps down the left side of the page, apps are available on the right beneath the cover photo. Fewer tabs can be highlighted above a "See more" option, but all apps benefit from larger thumbnails. App images are 111×74 pixels instead of the 16×16 pixel favicons used previously. Apps themselves can now be up to 810 pixels wide. They render on a new page underneath a header with a link back to the page, a drop-down menu with other tabs and a Like button if users don't already.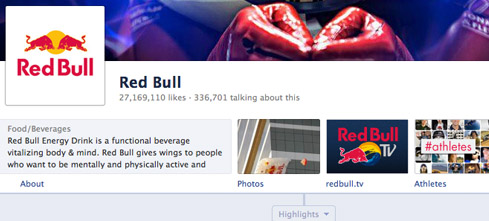 Facebook will no longer allow default landing tabs. The company recommends pages pin a post that links to a particular tab. According to cover photo guidelines, pages cannot add images that use arrows or text to direct people to visit tabs or take particular actions. The social network seems to be waning pages off of tab applications. The vision is for Facebook to be integrated into third-party websites and mobile apps, not to have applications running within page frames. Because many companies already invested in developing applications for their pages, however, the social network could not simply get rid of them at this stage.

Our new Fan Page has already been updated to timeline.

What do you think about the new timeline design and features?
Let us know your thoughts.
»
WordPress Websites Targeted by Hackers
»
Flash Back: Flash Vs HTML5
»
Tools for Testing Responsive Design
»
WordPress: The Best CMS?
»
Web Design Trends in 2013
April 18th, 2013 | Comments
April 2nd, 2013 | Comments
February 26th, 2013 | Comments
February 12th, 2013 | Comments
January 24th, 2013 | Comments
October 4th, 2012 | Comments
July 2nd, 2012 | Comments
June 7th, 2012 | Comments
April 20th, 2012 | Comments
A new stylish and sleek modern webs... Read more »